A transient performance in a 16-foot box truck that contemplates heritage, assimilation, and "home."
box/truck is a transient performance within and surrounding a 16-foot box truck that contemplates heritage, assimilation, and "home." Using the stories of her maternal grandparents' assimilation as the children of Jewish immigrants, writer and director Adrienne Westwood, together with the ensemble (performer Ana Evans, musician Eleonore Weill, and media artist/performer Kathryn Logan), creates a portal of exploration into the (un)told stories of inheritance: the stories-behind-the-stories. A circus troupe sets up a tent and ring, an ancestor cooks soup, a child bottle-feeds baby lions, a family journeys across the ocean on a boat, a woman contemplates the moon: box/truck weaves delicate layers of movement, story, song, puppetry, and video to invite an individual-yet-collective contemplation and complication of inheritance. The work features production design by Westwood's longtime collaborator Seth Easter, and production support by Theo Armstrong. box/truck is appropriate for all ages.
This event is hosted by The Old Stone House of Brooklyn (336 3rd St., Brooklyn, NY 11215) and will be performed adjacent to it, in the 4th St Plaza off 5th Ave at Washington Park in Park Slope.
Jewish techno?! Come dance to some techno grooves and traditional Jewish melodies at this raucous party in its 10th iteration. There will be drag, there will be dancing, there will be Michael Winograd on a clarinet! Jews and non-Jews of all identities welcome!
Voices from NYC's International Folk Music Traditions
Thu, 26 Oct, 2023 || 5p – 7.30p
Park Slope Library — 431 6th Ave, Brooklyn, NY 11215
Presentations: 6.30pm
"Brooklyn Folk" celebrates the voices of NYC's international Folk Music traditions. In the first of a new multimedia series by Brandon Perdomo (BPL Heritage Ambassador 2023), oral history interviews are paired with musical offerings, connecting heritage and memory with social context.
Multimedia Exhibition Featuring:
Eléonore Weill (Occitan folk, Yiddish Klezmer: voice, flutes, hurdy-gurdy) [web/ig] Natie (Creole-Soul: voice, violin) [web/ig] Julia Patinella (Sicilian folk, Spanish Flamenco: voice, guitar) [ig] Mehrnam Rastegari (Iranian classical: kamancheh) [web/ig]
Saturday, December 16
& Jalopy Theatre Present:
The Loneliness of Either Or:
 a Requiem for Joan of Arc 
Past gigs
Oct. 13 at Barbes Brooklyn
Eléonore Weill and her Fada Friends
Barbès
Friday October 13, 2023
8-9:30 PM
Monthly concert of traditional and original klezmer and Yiddish gongs by French-Jewish Singer and multi-instrumentalist Eléonore Weill and her Fada Friends. Songs about love, daily life, freedom, and resistance old and new. Set includes dance music, ballads, nigunim, electric hurdy-gurdy, and heart opening songs.
Our October band features:
– Eléonore Weill (lead vocals, wooden flutes, hurdy gurdy, accordion, piano)
– Chaia (vocal harmony and accordion)
– Raffi Boden (cello)
– Mary Feaster (bass)
– Sam Harmet (electric guitar and mandolin)
– Pete Rushefsky (tsimbl)
– Ilya Shneyveys (drums and accordion)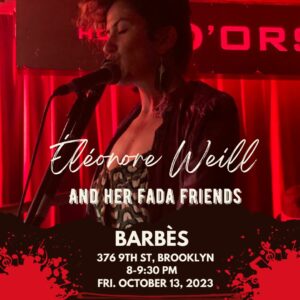 Sept 9 at Barbes Brooklyn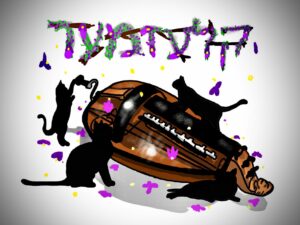 August 11th at Barbes Brooklyn
So psyched to invite some dear Fada Friends for some hot spicy🌶new and old dance tunes and songs.
On the Menu :
– Space Electro Hurdy Gurdy Dancing Set featuring Sam Day Harmet @prettymuchsamday
– Rocking Zhok-ing Yiddish Ballad featuring Beila Unger @beilas
– Klezmer Caval accordion dance set and Song about love and resistance featuring Ali Dineen @ali_dineen
And more… surprises…
August 10th, at JCC Manhattan with RAZA ensemble
July 20th, Kleztronica
at Trans Pecos, Queens, NY
featured in WBGO Journal:
July 16th, Yidstock
June 16th,

at Lincoln Center, NY, New York
April 26th,
at Jalopy Theater, Brooklyn, NY
Roots and Ruckus Festival
April 27th, 6pm
NYFA International New York Film Academy Awards Ceremony and Festival : 17 Battery Pl, NYFA Screening Room, New York, NY 10004
April 27th, 8pm

Spaguetti Ramadan with Mehrnam Rastegari : vocals/ Kemenche and Farah Barqawi : vocals,
Great Small Works and Fihi Ma Fihi production
at La Plaza Cultural Community Garden, Manhattan, NY
9th street between Avenue B and C
March 30th, 8pm
at Barbes, Brooklyn, NY
https://www.barbesbrooklyn.com/
February 26th, 1pm
at Flushing Town Hall, Queens, NY
Argentina meets France
With Pablo Aslan and Julien Labro (1st set)
Eléonore Weill solo (2nd set)
January 31st, 7pm
at Saint-Paul Chapel of Columbia University, NY
Solo concert : vocals, piano, hurdy-gurdy, wooden flutes, accordion
FREE
January 29th, 6:30pm
at Independant Repertory Theater, New York
with Bayan Kiwan : vocals, Éléonore Weill : vocals, piano and Raffie Boden : Cello
September 8th, 8:15pm
at Berlin Under A, Manhattan, NY
with Jake Winstrom, Julia Haltigan, THEMME and more!
April 2, 10pm
Tsibele at barbes, Brooklyn,  NY, USA
https://www.barbesbrooklyn.com/
March 6, 10pm
Midwood at Fürt Festival, Germany
July 21, 7pm
Duo Lustik at Café Plùm, Lautrec, Tarn, France
www.cafeplum.org
July 22, 7pm
Duo Lustik at Eglise de Massals, Tarn, France
July 27, 7pm
Duo Lustik at Centre Medem, 52 rue Renée Boulanger, 75010, Paris, France
July 29, 1-7 pm
Tsibele at Brooklyn Root Festival, Lefferts Historic House & Children's Corner, Ocean Avenue at Flatbush Avenue, Prospect Park, Brooklyn, New York, USA
www.brooklynartscouncil.org
May 13, 8pm
Midwood at The Owl Music Parlor, 497 Rodgers avenue, Brooklyn
May 10, 7pm
Midwood CD release concert at Eldridge Street Synagogue, 12 Eldridge Street New York
May 8
Tsibele and Veveritse Band at Barbes, Brooklyn (376 9th Street)
September 28, 8 pm
FADA at Barbes, Brooklyn (376 9th Street)
www.barbesbrooklyn.com
Lùm Tour :
August 7 Quorle, Italy
August 6 Ördögkatlan, Hungary
August 5 Ördögkatlan, Hungary
August 4 Ördögkatlan, Hungary
August 3 Ördogkatlan, Hungary
July 31 Kali-Kapocs Mindszentkalla, Hungary
July 30 Visegrad, Hungary
July 28 Magyar Kanizsa, Serbia
July 27 Maria Saal, Austria
July 25 Correns, France
July 24 Vence, France
July 23 Sausses festival, France
July 18 Correns, France
July 17 Cafe Plùm Lautrec, France
July 16 Festival Nuits atypiques, St Macaire, France
July 15 Projektor, Paris, France
July 12  "Brooklyn Spirituals"  at the Centre Medem, Paris,
Nigunim, jewish music composed and improvised with Joey Weisenberg (vocals, guitar) and Jake Shulman-Ment (vocals, violin)
June 30 Tsibele at Barbes, Brooklyn, NY
June 18 Tsibele at Scholes Street Studio, Brooklyn, NY